BrasserieSummer kitchen
Out of sight, in a friendly and bucolic atmosphere, the Château de Beaulieu brasserie unveils a decor with modern comfort. Like a green and living heart, this table set up in the grounds of the estate has been designed as a veritable garden of delights, displaying a seasonal and market menu.

On fine days, a summer kitchen offers all guests the pleasure of having lunch outside while tasting summer recipes, fresh and tasty, prepared "à la minute" by a team of chefs on the terrace. On the menu, the choice is between 5 starters, two meats, two fish and a vegetable dish - with for some dishes a suggestion of cooking on the barbecue - and 5 desserts… Add to that a beautiful list of organic and natural wines, that will be sure to delight all curious gourmets.
---

"We owe it to ourselves to share with our guests the origins of the foods they find on their plates… Awakening their curiosity by teaching them how the fruits and vegetables they eat are harvested and processed in order to forge a deeper, more intimate bond with nature. This is the goal of this new experience."

Chef Christophe Dufossé
BOOK A TABLE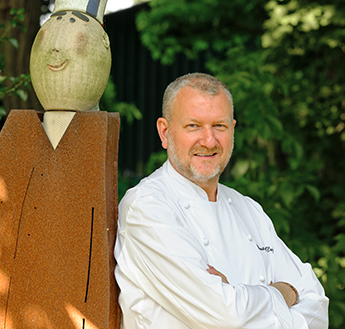 The ChefChristophe Dufossé
---
Ambassador of what tastes good and what feels good, Christophe Dufossé is a chef who came to master the art of transforming the movements of nature into moments of grace and emotion. Excited about the flavors of the gems of his local culinary heritage, the chef's gastronomy constantly takes delight in unveiling new experiences focused on the values of sharing and conviviality. As a child of the area of Calais, this regional chef carries within himself, and through his cuisine, all the generosity and enthusiasm specific to the people of the North. His recipes are sheer, creative and natural. Without half measures, they evoke the combinations of the unique scents that make up the landscapes of Hauts-de-France.
Opening days
Every day of the week, Monday to Sunday.

Noon : 12.00 to 2.00 pm
The evening : 7.00 to 10.00 pm