DiscoverTHE RELAXATION AREA
A play of contrasts between the old charm of the chateau and the modern refinement of its colorful furniture and black wooden floors, the castle bar has been imagined as a cosmopolitan space, welcoming both the establishment's guests and visitors on the premises.

In a cozy and elegant setting - overhung by a magnificent Murano glass chandelier - Delphine and Christophe Dufossé joyfully play the card of the great classics, cocktails, champagnes and other beverages. Around the grandiose bar, guests are invited to savor the present moment by sharing a first drink accompanied by the chef's little creations, sweet and savory, amidst a background music which is conducive to relaxation.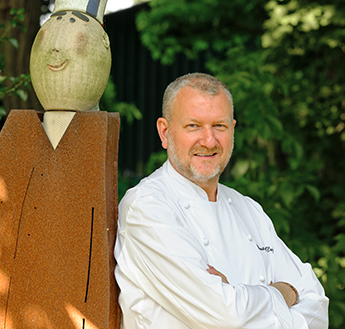 The ChefChristophe Dufossé
---
Ambassador of what tastes good and what feels good, Christophe Dufossé is a chef who came to master the art of transforming the movements of nature into moments of grace and emotion. Excited about the flavors of the gems of his local culinary heritage, the chef's gastronomy constantly takes delight in unveiling new experiences focused on the values of sharing and conviviality. As a child of the area of Calais, this regional chef carries within himself, and through his cuisine, all the generosity and enthusiasm specific to the people of the North. His recipes are sheer, creative and natural. Without half measures, they evoke the combinations of the unique scents that make up the landscapes of Hauts-de-France.
Opening days
Every day of the week, from Monday to Sunday.

Lunchtime : 12:00 pm to 2:00 pm
The evening : 7:00 pm to 9:00 pm