The Chef's dining restaurantA cuisine of the heart
Chef Christophe Dufossé's cuisine is a cuisine of the heart that never fails to skillfully transcribe all the sublime and generosity of seasonal products, whether they are harvested at Château de Beaulieu or supplied by producers in the region. And so tempted that his recipes do as much good for the soul as they already do for the body, the chef cultivates the desire to be able to nourish his guests on a spiritual level, by awakening their knowledge and understanding of the plant world which surrounds them, in a new totally dedicated space: the Chef's Dining Room.
"We owe it to ourselves to share with our guests the origins of the foods they find on their plates… Awakening their curiosity by teaching them how the fruits and vegetables they eat are harvested and processed in order to forge a deeper, more intimate bond with nature. This is the goal of this new experience."

Chef Christophe Dufossé
By imagining this place conducive to exchange and tasting, Christophe Dufossé wanted to create a new intimate space in order to organize more direct meetings with the guests and the origin of the seasonal products he offers, considering that they enrich the gastronomic experience and allow to better appreciate the work of the land and those who shape it. A new approach to gastronomy preserved in a luster of intimacy and sharing of the meal with a few privileged guests - between 4 and 10 people - who get to the heart of the product as if to better reveal the preciousness of its resources before being cooked by the chef and his team. To encourage and facilitate exchanges around the products, the person making the reservation of the table will first have chosen - for the whole group - about ten vegetables and fruits from a seasonal list drawn up by the chef himself.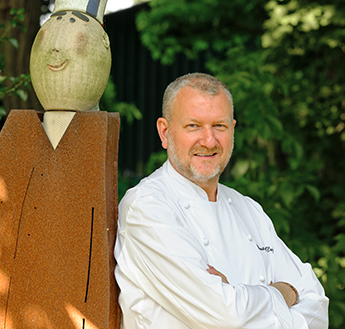 The ChefChristophe Dufossé
---
Ambassador of what tastes good and what feels good, Christophe Dufossé is a chef who came to master the art of transforming the movements of nature into moments of grace and emotion. Excited about the flavors of the gems of his local culinary heritage, the chef's gastronomy constantly takes delight in unveiling new experiences focused on the values of sharing and conviviality. As a child of the area of Calais, this regional chef carries within himself, and through his cuisine, all the generosity and enthusiasm specific to the people of the North. His recipes are sheer, creative and natural. Without half measures, they evoke the combinations of the unique scents that make up the landscapes of Hauts-de-France.
Opening days
For lunch: Wednesday to Sunday.
For dinner from Wednesday to Saturday.

Lunch : 12.00 to 2.00 pm
Having dinner : 7.30 pm to 9.30 pm