Michelin starred restaurant Christophe Dufossé
Let yourself be guided by your emotions...
What if the best way to fully experience nature was to taste it? At the starred table of Château de Beaulieu, chef Christophe Dufossé achieves a highly ethical and responsible cuisine, cared for to perfection and vibrant with the flavors of the riches of his local culinary heritage. His guests can breathe nature through his creations. With each recipe, this man succeeds in sketching the generous silhouettes of a nearby landscape, juxtaposing the scents of a stroll on a trail with those of a stopover by the sea.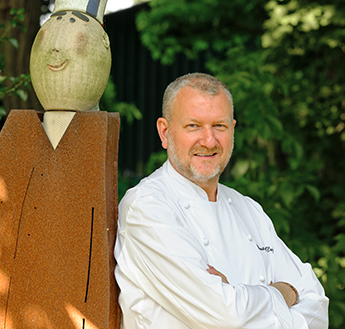 The ChefChristophe Dufossé
---
Ambassador of what tastes good and what feels good, Christophe Dufossé is a chef who came to master the art of transforming the movements of nature into moments of grace and emotion. Excited about the flavors of the gems of his local culinary heritage, the chef's gastronomy constantly takes delight in unveiling new experiences focused on the values of sharing and conviviality. As a child of the area of Calais, this regional chef carries within himself, and through his cuisine, all the generosity and enthusiasm specific to the people of the North. His recipes are sheer, creative and natural. Without half measures, they evoke the combinations of the unique scents that make up the landscapes of Hauts-de-France.
Opening days
For lunch: Wednesday to Sunday.
For dinner from Wednesday to Saturday.

Lunch : 12.00 to 2.00 pm
Having dinner : 7.30 pm to 9.30 pm